How to build the foundation for your brand's content marketing plan
Jonathan Perelman of Buzzfeed once said, "content is King, but distribution is Queen and she wears the pants." Advancements in communication channels seem to make the world smaller every day. For brands, this opens up new and innovative ways that they can connect with their customers. It also puts the consumer in control. They decide how and when they want to interact with a brand and what messages are worthy of their attention. Consumers hold all the cards.
The days of relying solely on purchased advertising impressions to obtain marketing objectives are gone. Don't get me wrong, paid media still plays a very important role in the advertising equation but it is only part of the equation. Now more than ever brands are faced with the challenge of engaging their customers. Making them want to consume the company's message. Brands have to entertain or educate (or even better, educate and entertain) in order to capture and hold the attention of their audiences.
As Steve McKee noted in his book Power Branding, "The lines between advertising, journalism, and entertainment are increasingly blurred". So how does your company adapt to this marketing climate change? To answer this, we look to some major brands that have created entertaining content and crafted smart plans to distribute it.
Over a decade ago, BMW was a pioneer in this space and created its own Hollywood-quality online television series featuring A-list actors and portraying their cars' attributes through story-telling. Just last month the brand announced it was bringing their television series back to the web.
Lowe's created a series of Vine videos featuring little-known home improvement tips. It featured educational content, such as how to get a stripped screw out of a wall, in a fun and lighthearted way. Using the hashtag #lowesfixinsix, the brand was able to create engaging content that was worth sharing across social channels.
Chipotle recently launched an online TV miniseries of its own called Farmed and Dangerous. A comedic parody about our food chain that Hulu is exclusively airing. Not only is it well-produced and quite frankly hilarious, the show does an impeccable job of reinforcing Chipotle's focus on creating a healthy and sustainable food chain.
Lego is another great example. The heritage brand just released a feature-length film, The Lego Movie. Not only was it funny and charming, but it was branded content that I actually paid to consume. Mind-blowing, right?
The one thing that each of these brands has in common is the use of entertainment and education to engage their would-be consumer. Not every company can create a feature-length film for theaters or hire A-list actors, but every brand can create content that is entertaining. Think about your brand personality and make sure that whatever you create reflects who you are.
As Mr. Pearlman so aptly pointed out, having the content is only half the battle. Ensuring your brand develops a strategic content marketing plan is arguably just as important as the content itself. So where do you start? Before plotting out content marketing plan recommendations for my clients, I like to create what I call a content tree. This serves as an outline and lays the foundation for the content distribution strategy.
Below are a few key tactics that can help to jumpstart any content marketing plan. Depending on your brand, your content tree may contain many more or even fewer distribution tactics.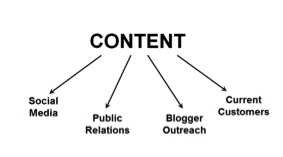 Social Media
Social media should serve as the cornerstone in any well-crafted content marketing plan. All brands have access to a variety of social media channels. According to comScore, Facebook currently has a reach of over 68% with adults 18+. YouTube reaches around 60%. How can you maximize the social channels to share your branded content and inspire engagement and sharing from your communities?  Certain social channels are better at distributing content, whereas other channels are best at housing it. For example, you may want to create a YouTube channel that features your brand's video content and then utilize Facebook to drive traffic to it. Make sure that you have a game plan for managing your social communities. Be consistent, conversational and relevant.
According to the Social Hunger report released by Mass Relevance and Sentient Services, users who are active in social media are 64% more likely to purchase a product based on a brand's social content. Additionally, the more your content is shared across channels the larger your social communities will become, which in turn increases your brand's reach exponentially.
Public Relations
Don't underestimate the power of public relations. Fostering a strong relationship with the media can help to bolster your efforts. Don't feel that the content your brand created is news-worthy? You're probably wrong. Focus on building relationships with journalists and you will not only have the opportunity to become a resource to them, but will be more likely to garner coverage when you do have interesting content to share.
Blogger Outreach
Reach out to the blogger community. You can accumulate a significant amount of reach if the right mix of bloggers is writing about and sharing your efforts. If a blogger finds your content interesting, their loyal readers will surely feel compelled to check it out and with any luck, share it.
Current Customers
Capitalize on your current customer base. They are already supporters of your brand and will inherently be willing to consume your brand's content. Maximize your in-house email lists to share your branded content with your current fans. If they like it, they'll share it.
The key here is to make sure that each tactic in your content marketing plan feeds the other tactics. Your LinkedIn page should promote any PR stories you receive. Use your Twitter handle to share Vine videos. Your Facebook page should drive users to your YouTube channel. Email blasts can link through to your company's blog. Cross-platform promotion will ensure that your branded content is being consumed by as many of your prospects as possible. With entertaining, educating content and a solid plan to promote it, your prospects will choose to consume your content and will be well on their way to developing a lasting affinity with your company.
Sign Up for Growth Insights
"*" indicates required fields
"*" indicates required fields